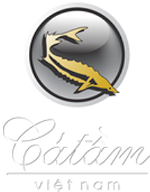 The Vietnam Sturgeon Group is proud to be a leader in the field of sturgeon aquaculture development in Vietnam. After many years of research and with dedicated efforts, the group has successfully built a large-scale, scientifically-based, sturgeon farming system. The group is constantly exploring new locations, with the aim of turning Vietnam into a leading country in the raising of endangered species. Currently, the group has six subsidiaries operating in incubating, breeding and rearing sturgeon, as well as supplying meat and black caviar to the domestic and overseas markets.
The mission of VSG can be stated simply:
Sturgeon conservation
Be able to reproduce new, healthy generations of endangered sturgeon species and make a contribution to the protection of the wild sturgeon population
Product Differentiation
Produce high-quality products, not only by taste but also through raising the levels of technology, including:
- Optimizing quality control
- Feeding fish with natural product
- Disease prevention and treatment
- Creating natural habitat conditions
Availability
By expanding the business each year, VSG aims to meet the market demands for sturgeon and caviar within the next decade, providing good pricing and quantity in order to reduce illegal wild caviar trade.
The Vietnam Sturgeon Group possesses all the main key success factors for a prospective sturgeon farming facility:
1. Open & Eco Friendly farming system
Allows the fish to grow in their natural habitat; provides them with all essential vitamins and minerals; provides excellent water environment for growth, farming capacity, sturgeon and caviar quality.
In coordination with the municipal organization for environmental protection VSG regularly controls, analyzes and assesses the influence of sturgeon farming on the local environment.
2. Farm management
Smart & systemized farm management; follows HACCP requirements, and adjusts to local conditions.
3. Feed quality and quantity
Systemized nutrition control, combining dry fish feed with live food (worms, small fish or snails). Due to Vietnamfs geographical advantage of having a long coastal border, the sturgeon are mainly fed with small fish and other sea creatures.
4. Water quality
The farms are located in hydroelectric lakes with very strong water flow and water conditions suitable for sturgeon farming.
5. Market
A worldwide demand for sturgeon products still exceeds supply, which leaves space for new players to take part in sturgeon & caviar market.
6. Labor
Itfs well known that Vietnam has a comparatively cheap labor, which makes it convenient to run a business. Besides that, however, the workers are very responsible and hardworking. They take the initiative and are creative and passionate about everything they do.

Current sturgeon farming technology in the world is based on temperate climate, in which water temperature ranges between 23°C to 25°C. After years of research and experimentation the group developed the ideal environment for this cold water species and allowed it to adapt to Vietnamfs tropical climate. This was done through nutrition and the facilities, of which none is more important than the hydroelectric lake. Under the guidance and supervision of Russian sturgeon specialists, strict implementation of the production procedures is followed, and this plays an important part in the VSGfs success.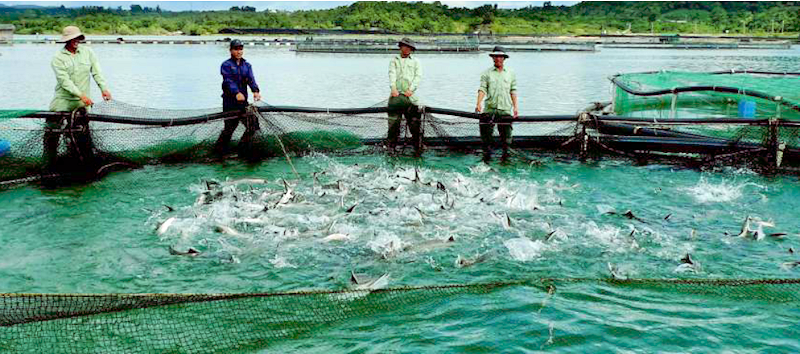 After seven years of research and experimentation the Ca Tam- Da Lat hatchery successfully bred, hatched and reared larval and juvenile Russian sturgeon (Acipenser gueldenstaedtii). This success was the result of the strict execution of of standards and rules in each step of the hatching procedure, including selecting and raising broodfish, tracking each individual fish using electronic chips, creating a suitable hibernation place, stimulating the spawning of broodfish, as well as monitoring the incubation and rearing of fry. Hibernation and hatching require the most care and effort of specialists. Consequently, success in hatching fry not only marks VSGfs achievement in the sturgeon production process but also proves its capacity and proactiveness in the business.
All production and the farming processes at the farms and facilities are monitored against the standards of Global G.A.P, a private sector body that sets voluntary standards for the certification of production processes for agricultural and aquacultural products around the world. The standards are primarily designed to reassure consumers that the food has been produced in ways that have minimized any detrimental effect on the environment, that chemical use has been reduced, and that a responsible approach has been taken towards workers health and safety, as well as animal welfare.
In Vietnamfs sturgeon farms, cage systems are carefully arranged in cold water lakes to take advantage of the natural environment, yet strictly adhere to Global G.A.P standards. In this way, Vietnam Sturgeon Groupfs products are always of a high quality, equivalent to that caught in the wild, while at the same time maintaining its commitment to environmental protection.
Vietnam Sturgeon Groupfs nutrition scheme is amongst the most advanced. The feed, which differs from prepared feed in the marketplace, is customized to meet different nutritional demands of the fish at the various stages of their life cycle. The Russian specialists frequently monitor and change the composition of the feed as well as quantity, taking into account the local climate conditions.
Disease prevention and treatment are based on the entire farmfs fish health records from when they are released into the lake. As a result, common sturgeon diseases have been successfully controlled.
Ultrasound examination is conducted periodically to distinguish sexes when the fish are biologically mature. This is a crucial step in determining the quantity and prices of caviar products - the strategic products of the group.
Currently, Vietnam Sturgeon Group is raising Russian sturgeon, Beluga, bester, and Siberian sturgeon. Products consist of fresh sturgeon, frozen sturgeon, sturgeon fillet, smoked sturgeon, cleaned sturgeon and, of course...... caviar.
Black caviar is a luxurious and extremely nutritious food. Salt-cured fish eggs of the Acipenseridae family are considered one of the ultimate gourmet treats, and one that shouldnft be missed.
Caviar is a great source of vitamin A, D and marine omega-3 polyunsaturated fatty acids. It contains more than 30% protein and 20% essential fatty acids. Scientists and doctors alike speak of its health benefits.
Vietnam Sturgeon Group is proud to introduce the world to "Caviar de Duc"
The secret of Caviar de Duc goes deep inside the roots of its origin. In order to create a significant caviar, "passion" is a must. The caring hands of the workers follow every step of the sturgeonfs life.
From the first and most fragile days of the fish, perfect conditions are created for it in the lakes with natural water flow, plankton, sunlight and wind. Only in this habitat can the sturgeon be healthy and feel at home. Only in this way will each of us be able to taste the power of nature in each grain of Caviar de Duc
Caviar de duc promises to supply the best quality black caviar extracted from Russian (Acipenser gueldenstaedtti) and Beluga (Huso huso) sturgeon. Considered by even the most critical of consumers as possessing an exquisite taste, Russian caviar is very popular in royal feasts. Its color ranges from being as dark as black to as light as gold. Osetra has a buttery flavor that many consider to be the most enjoyable.
For Caviar de Duc, when processing black caviar, first and foremost, the strictest food safety criteria must be met. A qualified, clean and sterilized laboratory, with a high quality control system is utilized so that the product can be brought to market with safety and best quality.
Caviar de Duc is salted in the traditional "Malossol" method. Experts often prefer this kind of processing method in making caviar. Malossol means lightly salted. Fresh caviar usually has a maximum of only three percent salt. This type of caviar is considered high quality. It is the finest process and tends to be more expensive because the exquisite taste is preserved.
Caviar de Duc also has a new process where the roe is treated at a higher temperature than the traditional methods which helps to clarify the roe. This increases the shelf life without affecting the shape, texture or flavor.
Products
Russian Caviar



Russian Osetra Caviar ranges in color from dark brown to gold, and sometimes slate grey. It has a distinct, almost nutty taste, and many connoisseurs consider this to be the best caviar.
Caviar de Duc provides this product in two different packages: metallic tin and crystal jar
Tin: 30g, 50g, 100g, 250g
Jar: 1 oz, 2oz, 3oz


Caviar Gift Box



The ultimately unique and regal gift box.
Exclusively designed bu Caviar de Duc, this is the perfect choice for those seeking a special present for family, beloved ones, and colleagues. The stylish and smart design of the gift box gives it a glamorous look, yet still provides a cool condition for the caviar thanks to a temperature isolation layer and built-in gel ice pack.


Caviar Serving Set



Made of natural mother-of-pearl these utensils are a perfect choice for caviar (along with gold).
(As a note, silver and metal bowls and utensils should be avoided due to oxidation, which may impart a metalic taste to the caviar. Glass, bone, tortoise shell, wood and plastic can also be used).
A Few Words from the Founder
Over the years, the world has changed dramatically. The progress of human society, therefore, brings the good side and the bad side. The point is, however, what we think and what we do about it.

Just 100 years ago, Sturgeon still lived freely and healthily in the Black Sea, only the royal class, the rich and the noble could enjoy the caviar which was made from the wild sturgeonfs roe. The continuous progression of society helped make accessibility to this gourmet food easier. However, easy accessibility itself led to many issues such as the illegal fishing, environmental problems, and an increase in the price of caviar. But most of all, it led to the near extinction of sturgeon.

As a society we realize the value of precious animals and the duty we have for their preservation. As a company, we are committed to the preservation of sturgeon, while at the same time enabling more people to enjoy not only the caviar the sturgeon produce, but the fish itself. It is our hope that this will decrease the cases of illegal fishing and trade, as well as environmental damage.

Due to the development of technology and international trade, it is surprisingly possible to raise sturgeon in a strange area; one which has never seen wild sturgeon before, such as Vietnam.

Huge hydro-electric lakes, annual strong flows of water at hundreds of m3/s together with suitable temperatures in the highlands of Vietnam create an ideal environment for the lives of sturgeon. The 3000km coast line of Vietnam brings a flourishing food source, like natural fish bait, to the farms weekly, ensuring the sturgeon can enjoy what they used to eat for centuries.

Leading experts from Russia, as well as Vietnamese workers are working for the Vietnam Sturgeon Group with love and passion .They devote themselves to the sustainable growth and healthy living of sturgeon. Thanks to all the above factors, we are now proud to present the most perfect caviar that has been inaccessible to many consumers.

I think this is a chance and the responsibility of humans to preserve and restore the threatened and endangered species of sturgeon.

Just like an old Russia saying: Whatfs good must be much !