Inata Honten Sake
Established in the year 1673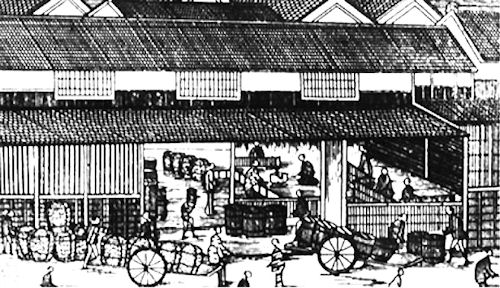 Established in 1673, Inata Honten, then called 'Inabaya', started brewing Sake and producing soybean sauce in Yonago City, Japan, under the leadership of Kaemon Tadahisa the 3rd. After almost 340 years, Inata Honten continues to brew Sake of the finest quality.
The line-up not only includes Sake, but also Shochu and a variety of liqueurs. During the brewing period, Inata Honten craftsmen, (called ekurabitof), are intensely focused on brewing Sake every step of the way, with very little rest. Brewing the most fulfilling Sake is all they have on their minds, and the best of efforts are made to improve their skills in brewing
Sake from the heart.
So not to miss the chance for making the best Sake, Inataya Honten brings together the most important ingredients : the best Sake rice, the best water and the best craftsmen.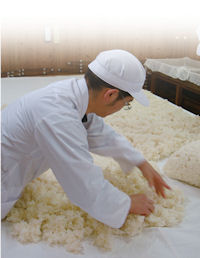 Inata Honten relies on contracts with a efamilyf of farms (headed by the Kazuma family) for the production of rice that is ideal for brewing Sake (also known as eSake ricef or ebrewerfs ricef). Being very enthusiastic about Sake rice production, and shunning the use of chemicals in the cultivation process, they follow their own traditional way. Their motto is gRice filled with the power of life, not chemicals!h
Inata Honten uses subterranean water from Mt Daisen, the highest peak in the Sanfin area. During the winter months, large amounts of snow amass on Mt Daisenfs beech tree forest, which then filters through the ground over a long period of time, and becomes the optimum subterranean water for preparing Sake. The semi-hard nature of the water with its moderate amount of calcium and magnesium helps with the fermentation of the main mash, and in achieving the perfect level of dryness for Sake.
Inata Honten is a group of craftsmen brewing quality Sake. Quality Sake is brewed from the heart. Unless all the workers work together as if with one heart, it is not possible to brew quality Sake. Their belief is that, before relaying the technical expertise involved in the manufacturing process to the workers, the workers must have a strong passion for Sake.
When passionate workers come together, without saying much, each one can understand what the other needs. In this spirit Inata Honten strives to continue brewing, from the heart, for all who enjoy quality Sake.
Enjoying the ideal food with our Sake
Value is placed on the natural flavors of food, and advantage is taken of them. At the nine Inataya restaurants (in Tokyo and Yonago) the best selection of food that is ideal with the Sake, is offered at a very reasonable price. The chefs prepare hand-made cuisine with ingredients mostly from the Sanfin area of Japan.
Premium Sake
Special Selection Daiginjo

Inata Hime Gouriki Junmai Ginjo

Brewed from what is referred to as the 'King of Sake Rice', Yamada Nishiki Special Class sake rice from Hyougo, Japan. A gentle banana fragrance, and a smooth taste due to roughly one year of aging in a cool dark place, are characteristics of this Special Selection Daiginjo. The smooth taste goes well with raw food dishes.

Prize Winner : All Japan New Sake Brew Award for Excellence
Winner : Tottori Prefecture New Sake Brew Award for Excellence


'Gouriki' (meaning 'strong') refers to the type of sake rice Inata Hime Gouriki is made from, which is produced in Tottori, Japan. Freshly brewed, this sake has a hard, astringent or bitter flavor, which with aging, is transformed into a soft, mild flavor.

Bronze Prize : Consumer's Choice Contest Craft Sake Big Show


Regular Sake
Inata Hime Nigori Sake

Houki No Inadama Honjou Extra Dry

The freshly fermented mash used for 'Nigori' sake is filtered with a rough sieve, in order to leave some of the rice solids in the sake. Inata Hime Nigori Sake has an enjoyable, thick soft flavor.


This Honjouzou is made from 'Gohyakumangoku' (meaning 5 Million grains) Sake rice. Not the usual dry tingle, but a 'spicy' flavor due to the rice grains that are polished to a low 68%. Houki No Inadama is ideal with food that has a high content of meat-like amino acids.


Shochu
Rice Shochu Nonkini Kurashinasai

Aged for more than 10 years, this is a long-aged Shochu. Characteristic of this Shochu is, despite it being a long-aged Shochu, it has a soft flavor and doesn't have the feeling of a strong alcohol. And with a fresh lime like fragrance, it is ideally enjoyed straight with ice.

The label of the bottle is the work of one of Japan's most famous cartoonists





Liqueurs
20th Century Pear Liqueur

Akashiso Liqueur

The juice of Tottori Prefecture's specialty produce, the 20th Century Pear, is extravagantly used in this liqueur, known for its fine pear fragrance and eloquent flavor.


Excellent for rejuvenating the spirit and increasing the appetite, Red Shiso (perilla frutescens var crispa) is used abundantly in this liqueur (up to 40g per bottle), with its stunning, naturally-derived bright red color.